About Keya Valley Resort
Keya Valley Resort is one of the best budgeted Resort in Kumbhalgarh, Rajasthan, designed and embellished by the well-known architecture an keyavalley team, The royalty and the splendor of the Resort is well maintained along with the rich Rajasthani heritage and culture, appears no less than a palace.
It is one of the luxury heritage resort in kumbhalgarh, constructed in a traditional Rajasthani Haveli style, which will give you the feeling of royalty when you will stay over here with your loved ones. "keya valley resort at kumbhalgarh satted amidist the lush green of kumbhalgarh experience ultimate luxury with the untouched rawness of nature at keyavalley resorts" .a new benchmark in luxury resorts that provides you with an unprecedented experience of nature's wilderness and sophistication savour exclusivity with your loved ones .with private gardens stay here for perfect conglomerate of minimal luxury and nature at its purest form. The family and all the staff members are deeply committed in providing the charming and warm hospitality that makes your stay more relaxing and marvellous.
With the breathtaking view of hills and greenery which are the main attraction of Kumbhalgarh, our beautiful sites view hotel in kumbhalgarh offers extensive leisure facilities that include luxurious rooms and suites, meeting rooms for business travelers, dining facility with appetizing cuisine menu and other blending modern luxuries with royal splendor at Key Valley Resort. Along with these lavish amenities our royal resort in kumbhalgarh provides additional conveniences like same day laundry services, traditional wedding arrangement, ayurvedic and non ayurvedic massage, free luggage room, free Wi-Fi facility, sunset point view, horse safari, cooking classes, city sightseeing tour, travel desk, doctor on call, acupressure on request, off road parking, Night Jeep Safari, Morning tracking and hiking, Camp in Jungle and many more, that makes your stay more comfortable, enjoyable, and eternally memorable.
Along with these world-class facilities, our Keya Valley Resort also has an open air garden restaurant, which is one of the best restaurants in Kumbhalgarh. The chefs are proficient cooks, who are expert in cooking delicious Rajasthani traditional food, French cuisine and multi cuisines. The other staff members of our restaurant are also profound experienced professionals, who are expert in catering services and in attending the guest with decency. We provide you with the unique place to enjoy your breakfast, lunch and dinner with your loved ones that makes an ideal place for you. Our restaurant is a lovely spot, which provides candlelight dinner at night served with the special dishes in the ethnic ambiance of our royal resort.
Our Keya valley resort is perfectly located in the heart of the green hills and 20 minuts Drive distance from the famous Kumbhalgarh Fort, It is 50 Minut drive distance from the airport, railway station and Udaipur bus stand. So if you are planning to travel to India and especially you are visiting Udaipur and Kumbhalgarh, then you can make your journey more contented and unforgettable by staying in Keya valley Resort, the best resort in kumbhalgarh.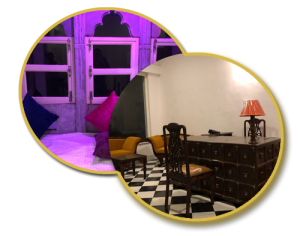 Our Facilities
We are known for best Heritage Rooms, Room on Reasonable Rates, Good Facilities, Nice city view & Best Hotel Services.