Places To Visit

8 Places To Visit In Kumbhalgarh For An Enchanting Holiday
Kumbhalgarh is a small, quaint, and absolutely stunning Mewar fortress town, located roughly 85 kms from Udaipur. Surrounded by opulent Aravalli hills, this scenic place is visited by tourists from Udaipur, particularly on a day excursion. It's not only the famous hill fort that makes Kumbhalgarh a place to explore, but also the century-old temples, dense wildlife sanctuaries etc.
1. Kumbhalgarh Fort – An architectural wonder of Rajasthan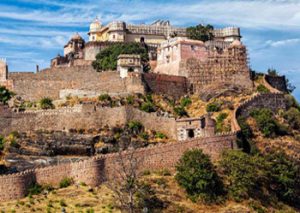 Kumbhalgarh Fort in Rajasthan
Encircled by the Aravallis, Kumbhalgarh Fort is one of the most popular places to visit in Kumbhalgarh. Perched at 1900 meters above sea level, it was built by the Rana Kumbha of Mewar dynasty. This gorgeous and mammoth fort is enclosed by a huge wall stretching for 30 kms. Kumbhalgarh Fort is also listed as one of the UNESCO World Heritage Sites. There are numerous temples and palaces located inside the fort and the panoramic view of the hills and forests from the top of the fort leaves everyone awestruck.
Opening hours: 9:00 am to 5:00 pm
Entrance charges: INR 15/person for Indians and INR 200/person for foreigners.
 2. Mammadev Temple – A tourist place worth visiting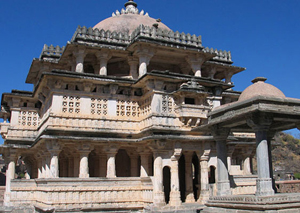 Mammadev Temple in Kumbhalgarh
Mammadev Temple is located right below the Kumbhalgarh Fort and is known for its beautiful architecture and interiors. Built by Rana Kumbha in 1460, this temple boasts of intricate sculptures and is definitely one of the best places to visit in Kumbhalgarh. The temple has two cenotaphs or 'chhatris' in memories of famous rulers Rana Kumbh and Prithviraj Chauhan. Moreover, there were four huge blocks in the temple with inscriptions of history and heritage of Mewar clan. But a few years ago, the pillars were transported to Udaipur museum. There is also a huge reservoir locally called 'kund'.
Must Read: 18 Palaces & Forts In Rajasthan That Speak Of A Glorious Past
3. Badal Mahal – The splendid palace inside the fort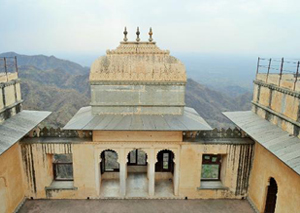 Badal Mahal in Kumbhalgarh
Badal Mahal is a part of the Kumbhalgarh Fort and attracts a large number of tourists for its astounding architecture and grandeur. This is a 2-storied palace, located at the top of the fort, known for its colorful murals and breath-taking views. Its breathtaking beauty makes it one of the most visited places in Kumbhalgarh. Due to its location at the top, the palace is airy and well ventilated and hence named as Badal Mahal or The Palace of Clouds. The palace is divided into two sections: Zanana for the womenfolk and Mardana for the men of the royal clan.
Opening hours: 9:00 am to 5:00 pm
Entrance charges: INR 15/person for Indians and INR 200/person for foreigners.
4. Neelkanth Mahadeo Temple – Popular for intricate architecture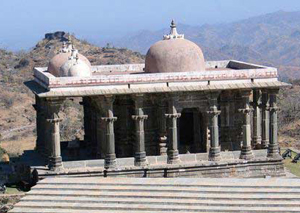 Neelkanth Mahadeo Temple in Kumbhalgarh
A famous Shiva temple, Neelkanth Mahadeo is another beautiful and serene place to visit in Kumbhalgarh, which dates back to 1458. The temple has an open mandapa, a sanctum, pillars with inscriptions, six feet high Shiva Linga made of stone and entrances on all four sides. Located close to Kumbhalgarh Fort, Neelkanth Mahadeo Temple is surely one of the most charming places to see in Kumbhalgarh and your Kumbhalgarh sightseeing tour must include it.
Opening hours: 8:00 am to 6:00 pm
5. Vedi Temple – A beautiful Jain temple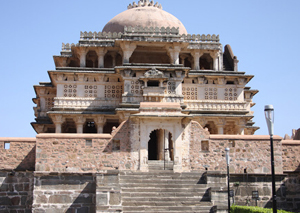 Vedi Temple in Kumbhalgarh
If you are looking for places in Kumbhalgarh that can be explored in a day, do not miss Vedi Temple. Dedicated to Goddess Vedi, this beautiful Jain temple is located close to Hanuman Gate of the fort and built by Rana Kumbh. This temple was renovated by Maharana Fateh Singh in later years. Presently, this 3-storied temple is considered as the only surviving relic of all the sacrificial sites of India.
Opening hours: 8:00 am to 6:00 pm
6. Kumbhalgarh Wildlife Sanctuary- A rich and vibrant biodiversity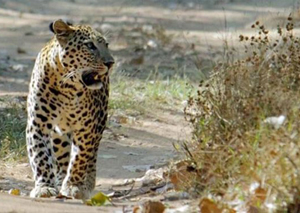 Kumbhalgarh Wildlife Sanctuary in Rajasthan
Sprawling over 578 sq km, encircling the fort, Kumbhalgarh Wildlife Sanctuary is a haven for thrill and adventure. Surrounded by Aravallis, this wildlife sanctuary is home to varied flora and fauna. Initially, a hunting ground for royal families, this is one of the major tourist attractions in Kumbhalgarh. The wildlife sanctuary has exotic wildlife species like wolves, leopards, sloth bear, nilgai, deer, chinkara and jungle cat.
The forest is also home to more than 200 bird species as well such as grey jungle fowl, dove, peacocks, parakeets, wild breasted kingfishers and golden oriole etc. Apart from regular deciduous and xerophytic flora, Kumbhalgarh Sanctuary is also known for herbal plants such as Salar, Dhok, Khair, and Churel. One can trek, ride horses or indulge in super thrilling jeep safaris.
Opening hours: 9:00 am to 5:00 pm
Entrance charges: INR 100/person
Suggested Read: 13 Places You Need To Visit For The Best Wildlife Experience in India
7. Parshuram Temple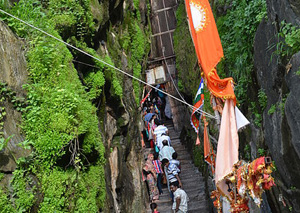 Parshuram Temple in Kumbhalgarh
Perched inside a cave, where Rishi Parshuram used to meditate, the Parshuram Temple is a must-see attraction during your day trip to Kumbhalgarh. Devoted to Lord Shiva, this cave temple has shrines of Lord Ganesh and nine holy kunds or ponds which never dry out. One needs to climb down approximately 500 steps to reach this amazing temple. If you're looking for places to see in Kumbhalgarh, it is the place you should be visiting.
Opening hours: 6:00 am to 7:00 pm
8. Muchhal Mahavir Temple – With a unique deity of Mahavira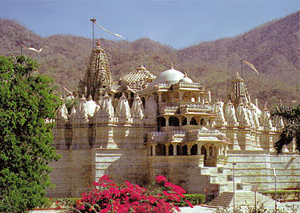 Muchhal Mahavir Temple in Kumbhalgarh
Situated inside Kumbhalgarh Wildlife Sanctuary, this Jain temple is another beautiful sight. This is a pretty temple and the statues of elephants, guarding the main entrance is worth seeing. But the unique attraction of this temple is the main deity. The huge idol of Mahavira, located inside the temple has a mustache and hence, the name of the temple is Muchhal Mahavir. Your Kumbhalgarh sightseeing must include this ancient temple.
Opening hours: 6:00 am to 7:00 pm
Not only the fort, the list has quite a few fascinating places to visit in Kumbhalgarh. Do plan a visit and share your experiences with us.
Hammeripal Kumbhalgarh
Historic Hammeripal lake with thousands of giant African Catfish must visit
History
The lake as why it's called 'Hammeripal' and got to know that the first Rana of Mewar(Sisodia clan) Rana Hammir Singh Ji built the lake hence it is called 'Hammeripal'.
It even has a crocodile
The locals told that the lake also has one crocodile but it remains in water only and doesn't enter the 'Ghats and three houses situated on the ghat.
How did the African Catfish get into the lake?
african catfish hammeripal
Giant African Catfish at Hameripal
This foreign breed of fish reached a rural lake of Mewar to which an aged local told that one 'Fish Contractor' developed this breed in the lake for commercial 'Fish Farming' but later on all the villagers opposed this commercial activity and from then, the 'Catfish Population' kept increasing. The villagers monitor the safety of fishes, they don't let anyone take a single fish, they have even caught people in the past stealing fish and punished them. He told that after 6 PM they don't allow anyone to go near the fishes.